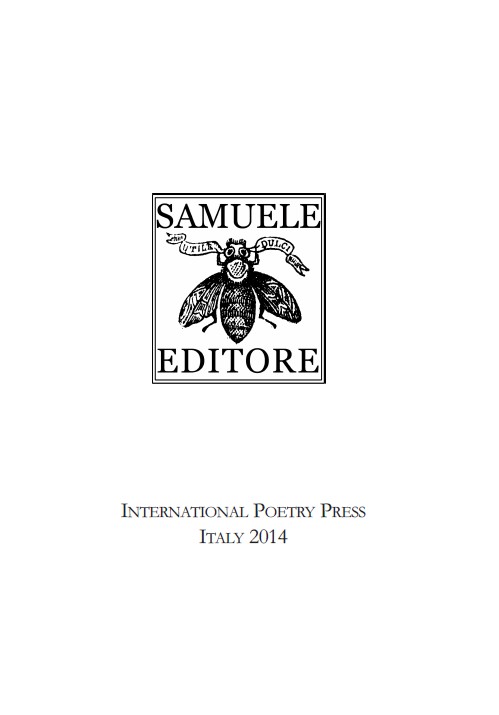 In 2008, writer and editor Alessandro Canzian founded the poetry press Samuele Editore in Pordenone, Italy, a northeastern city where one of the most important national literary events, Pordenonelegge, takes place each year. It is also situated near the town of Casarsa, hometown of Pier Paolo Pasolini. Samuele Editore became well-known to the Italian public after only a brief period while actively collaborating with those at the forefront of poetry, university studies, journalism, and even television. Thanks to the continuous promotion of its literary events in Pordenone, Trieste, Rome, Venice, Milan, Turin, Naples, and elsewhere, as well as coverage in publications such as L'espresso, Il Corriere della Sera, Nuovi Argomenti, and the largest national poetry journal, Poesia, Samuele Editore is now one of the most renowned independent publishers in Italy.
The logo of Samuele Editore, that of a bee encircled by the motto, "Utile Dulci" was resurrected from that of the publishing house Alvisopoli, founded in 1810 by Nicolò Bettoni. In its long history, the press published many unique and important works such as Le api panacridi in Alvisopoli written for the son of Napoleon Bonaparte in 1811 by the poet Vincenzo Monti, a major exponent of Neoclassicism.
The printing press ran until 1852, the year of its closure. Samuele Editore strives to uphold the same ideals and vision of that great literary period still living within the legacy of Nicolò Bettoni. The motto, "Utile Dulci", is a phrase taken from the Ars poetica, by Horace (13 BC): "Omne tulit punctum, qui miscuit utile dulci, Lectorem delectando pariterque monendo", – "He gains every vote he who mingles the useful with the agreeable, at once delighting and instructing the reader." The quote resurfaces in the eighteenth century Italian Enlightenment simply stated as, "work and art are the foundation of a good life." It is now the fundamental concept and continuous inspiration in the poetic research and publications of Samuele Editore.
In 2013, Samuele Editore opened an international division dedicated specifically to poety in translation, to be published and distributed in Italy and beyond. Nel santuario / In the Sanctuary, by English poet Patrick Williamson and Venti / Winds, by Vietnamese poet Nguyen Chi Trung are the first books available in this series. In collaboration with Simona Wright, Samuele Editore also recently curated a feature article on poets from the Italian region of Veneto for the journal NEMLA, published by the College of New Jersey.
Samuele Editore is interested in poetry of human and linguistic investigation that without pretension speaks of the life experience and the individual's search for meaning. It is this act of writing and reading poetry, in living and interpreting life, that builds connections between people, cultures and continents. Now expanding into an international arena, the press seeks to publish poetry books that connect and merge authors and readers beyond geographical borders.
Here, we offer a small sample of works from the Samuele Editore catalog that, while immensely diverse, all contain elements of a poetic vision that is concentrated and intense, that continually ventures and risks more and more of oneself. Chi Trung, in his poems as well as his many discourses on writing, speaks of a poetry that travels like the wind through space and time. Marina Giovannelli, a highly respected Italian poet, voyages within the myths of Ishtar and Er, seeking the meaning of loss and the emergence of one's authentic self. Federico Rossignoli, a young emerging poet and accomplished classical guitarist, seeks the authentic, exact, yet fleeting "landscape within the landscape" (il paesaggio) of his territorial home of northeastern Italy, a theme richly explored and so particular to this region.
Samuele Editore is currently accepting submissions from both emerging and well-established poets in either English or Italian. For more information or to submit a manuscript, please contact:
selected poems
Venti del cielo, che il cielo separate,
del cielo che stanotte sarà strappato
non a causa d'un essere umano
vuoto ancora di passato.
Si sono smarrite per sempre
quelle vite vicinissime all'arte?
Vicinissime come il fiume al pescatore,
la foresta al suo guardiano…
Lo spazio del Qui e dell'Ora è senza
gratitudine, senza considerazione alcuna.
Dalle origini la terra porta il suo dolore,
lo porta? Lo deve.
Winds of heaven, which divide it,
heaven that will be torn tonight
through no doing of any human being,
still void of the past. Are they definitely
lost, the most inherent lives of art?
More inherent as the river to the fisherman,
the forest to the forester…
The area of Here and Now, it is without gratitude,
without thoughtfulness. Does the original earth
carry the grief, does it? It has to.
Venti che trapassate gli spazi del vuoto,
che è dovunque dall'inizio della vita,
un tempo in villaggi anonimi,
protetti da foreste senza fine,
in città stracolme ora di sfortuna,
rinchiusi nella pancia del maiale.
Il cuore è una pietra umana
logorata. E questo dire
è da un'ulteriore pietra dorata
che è indistruttibile come la parola.
Winds that pass through the areas of
emptiness that is everywhere since
the beginning of life, once in invisible villages,
protected by unending virgin forests,
now in heavily loaded cities of misfortune,
crammed in the tummy of the brood-swine.
The heart is a human stone that is wearing out.
And one speaks about another golden stone
that is indestructible like the word.
Winds
Nguyen Chi Trung
Samuele Editore 2014
Cascassero gli uomini come cascano le foglie
appesi alla punta di un lunedì di vento
la nebbia viene giù all'improvviso
quante cose stanno dietro al tempo
che passa senza una mossa
quante cose impilate che avanzano
alle otto di mattina o anche prima
in una pattumiera di occhi stanchi
e passerà un vento o una trebbia a raccogliere
If Men fell as the leaves fall
hanging on the tip of a windy Monday
the fog comes down suddenly
how many things stay behind time
that passes without moving
how many stacked things advance
at eight in the morning or even earlier
in a trashcan of tired eyes
and a wind or a thresher will pass to collect
What Do You Want Me To Tell You
Giacomo Sandron
Samuele Editore 2014
Mattino
La porta si chiude alle mie spalle,
il vento è calato, frammenti di luce.
Scruto attraverso lenti appannate,
mia madre risponde di slancio e s'acciglia.
Prendo nota dei possibili intrighi.
La prima tazza nera di fuliggine.
Mia madre parla una lingua fibrosa,
io beccheggio come oceano e mi prostro.
Sono il tuo erede sopra questa terra,
custode della tua memoria sepolta nei recessi
della tua storia, del tuo amore.
Morning
Behind me, the door swings shut,
the wind has gone, light fragments.
I scrutinize through misted glasses,
My mother has a vivid response, tenses.
I take note of all possible intrigues.
The first soot-black cup hits the senses.
My mother speaks a fibrous language,
I undulate like the ocean, prostrate.
I am your heir on this earth,
guardian of your memory, earthbound in recesses
of your history, of your love.
In the Sanctuary
Patrick Williamson
Samuele Editore 2013
non vedo più le rose alla stagione
ogni stagione aveva le sue rose
sono rimaste solo canzonette
neanche l'eredità dei poeti
una tautologia mi accompagna
il deserto della rosa
è grazia non concessa
il profumo d'assenza
il vento sulla pelle
non odora d'inchiostro
I no longer see the roses of the season
every season had its roses
little songs are all that remain
not even the poets' heredity
a tautology follows me
the desert of the rose
it is grace ungranted
the scent of absence
the wind on the skin
with no odor of ink
The Book of Memory and Oblivion
Marina Giovannelli
Samuele Editore 2013
Talking
Lingua che si veste di frammenti
e si specchia a ping pong tra continenti,
ora incrostata di sorrisi e gesti,
dentro una mappa d'alfabeti altrui
in cui tutto risuona inadeguato.
E che confonde le parole d'ogni giorno
con gli afrori e le spezie dei racconti.
E annaspa e sigla mappe d'autobus e di treni,
e riannoda con verbi sconosciuti
posti di case e fiumi e shopping malls.
In un esterno da film di fantascienza,
si disperde il confronto col saputo
in questo sfaccettato transito di suoni
che gioca a dadi con la parola detta.
Talking
This language wraps itself in fragments
and mirrors and bounces among continents
now encrusts smiles and gestures
inside a map of some others' alphabet
where any sound resounds inadequate.
And muddles up the words of everyday
with scents and spices of old tales.
And fumbles and leaves hints on bus or train routes,
and tangles places of homes and rivers and shopping
malls with unknown verbs once more.
In an outdoor sci-fi movie scene,
our comparing the known goes astray
into this many-sided transit of sounds
which throws dice with the spoken word.
Uprooted Routes
Sandro Pecchiari
Samuele Editore 2013
Appunti per una scienza da inventare
Mi chiedo se sia possibile teorizzare
una termodinamica del dolore.
Capire come esso trascorra da un corpo o mente
a un altro corpo o mente e se qualcosa
vada perso nel mezzo e si degradi
in dolore più elementare. Sperimentare come
si possa espandere un dolore compresso
per attenuarne il morso. Ricondurre
il tutto a una statistica di innocue
particelle indolori in movimento
e ipotizzare un punto di riposo
– uno zero assoluto di dolore –
irraggiungibile come il bordo del cielo
e la mattina di ieri. Misurare
il dolore. Stimare se su questo pianeta opaco
il dolore totale prodotto sia più o meno
di quello consumato. E magari poi scoprire –
– scoprire che anche nel dolore
l'Universo è un sistema isolato.
Notes for a science yet to be invented
I wonder if it's possible to theorize
a thermodynamics of pain.
Understand how it flows from a body or mind
to another body or mind and whether something
gets lost in the process and degrades
into simpler pain. Conduct experiments
on expanding a compressed pain
to alleviate its bite. Explain
the whole phenomenon as statistics
of effortlessly painless particles in motion
and hypothesize a point of rest
– an absolute zero of pain –
unreachable as the edge of the sky
and yesterday morning. Measure
pain. Estimate if the pain produced
on this gloomy planet is more or less
than the pain consumed. And possibly discover –
– discover that also in pain
the Universe is an isolated system.
Brief Joys
Guido Cupani
Samuele Editore 2010
Canto il limone e il gelo sul cono
comprato presso il molo e il ritorno
dei fiori gli stessi che morto l'autunno
dai prati dai vasi dal tuo balcone partirono
Lo sbocciare vario
tra le dita del mattino
degli uccelli che dipanano
dal buio un altro sole insostenibile
simile al silenzio per il dubbio
o per la città
La mia terra è terra d'eterni
tramonti terra di grave
di vino di foglie e minacce
atomiche in terra d'Aviano
I sing the lemon and ice in the cone
bought near the pier and the return
of the same flowers that departed after
autumn from your balcony
The various blooming
between morning's fingers
of the birds that unravel
from the darkness another unbearable sun
like the silence of doubt
or of the city
My land is the land of eternal
sunset land of plains
of wine of leaves and atomic threats
deep in the ground of Aviano
The Etched Rain
Federico Rossignoli
Samuele Editore 2009